The Shark Tooth Maven
An exclusive interview with Joe Herber, a fervent amateur shark naturalist from Luxembourg.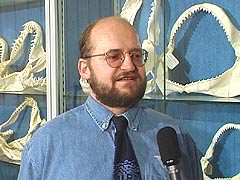 P.W.: Joe, you are Luxembourg's most fervent amateur naturalist concerning sharks. How long have you been interested in sharks?
J.H.: Well, I first became interested in sharks when I read Cousteau's book about sharks at age ten or twelve, then when I saw the movie "JAWS" that really acted as a kind of catalyst and things just got worse from that moment on.
P.W.: We are currently here in your shark museum. How did the idea of this museum come up?
J.H.: That evolved kind of naturally when my collection grew that large that I thought it would be appropriate to open it to the public for education purposes and this on an appointment base.
P.W.: Your shark library is quite impressive as well, how popular is shark science?
J.H.: Well, I have about six hundred books about sharks and rays in my library and I'm happy to see that there are more good shark books coming out each year so interest in shark science is really increasing.
P.W.: I know you are attending most international scientific shark meetings, what outcomes do you expect for the future?
J.H.: Well, I'm happy to see that there are more and more scientists doing research on sharks and that research is more and more well funded, so they can use most modern scientific means, for example electronic tagging, satellite tagging to do distribution studies and things like that which is really important since most shark species are overexploited right now.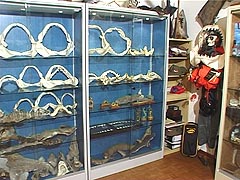 Joe Herber's Shark Museum
P.W.: The Shark is one of the most misunderstood animals in the world, how do we have to separate facts from fantasy?
J.H.: Sharks are certainly one of the most misunderstood and reviled creatures on earth and the most important misconception is that sharks are actually maneaters which is completely wrong. Even the most dangerous of sharks, the Great White Shark usually does not regularly eat people and most attacks are really accidents when the shark confuses man with seals or their usual prey. Actually it's not man that should be protected from sharks but rather the other way around, sharks should be protected from man. If we see that we have about fifty attacks on man each year of which about ten are fatal, on the other hand we have a hundred million sharks that are killed each year, mostly just in order to cut off their fins for that notorious shark fin soup.
P.W.: What do you consider the most appropriate shark protection measures?
J.H.: The most appropriate shark protection measures right now and on which the European Elasmobranch Association of which I'm also a member is working, is to get shark finning banned in all European Union waters. It is already banned in USA waters and it would be great if it could be banned worldwide.
P.W.: Do you still have a "dream" concerning sharks you wish to get realized?
J.H.: Well, I certainly would like to cage dive with Great White in South Africa one day like my good friends Jerome and Paul did last year.
P.W.: Thanks for the interview, Joe!
J.H.: You're welcome!