Two oceans, life abundant reefs and amazing wrecks are only a few of the highlights south of Cape Town in South Africa.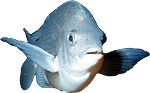 Early in the morning Paul an I we left together with Tania - she's the owner of a Diving Base in Cape Town - for a drive to Simon's Town on the way to the Cape of Good Hope. Simon's Town is one of these picturesque towns in the False Bay and since 1957 South African marine base. Between Simon's Town and the Nature Reserve of the Cape, the road leads alongside several protected bays. In one of these bays we had an appointment with the local diving base and some other divers already waiting for us.
The weather couldn't be better, so the conditions out in the sea were excellent. With a little help of everybody we put the rubberboat into the water and left for the first dive on one of the "Smitswinkel Bay Wrecks". These 5 wrecks were sinked in the 70's by the South African Marine to be developed as artifical reefs. They are lying on the ground in depth around 30-35m quite near together.
We started our first dive on the wreck called "Good Hope" quite near the "Princess Elisabeth" wreck. With some powerful torches, penetrating the cargo and machine rooms was an easy task but extremely exciting as the wrecks are abounding in sea life.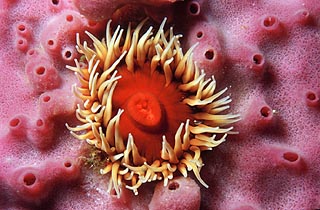 Photo by Jerome Konen
The visibility in these waters are mostly about 10m, that's what we had during the dives, but may be close to 20m on exceptional days with a water temperature around 15°C.
The second dive after a short break on the surface was along a huge rock crowded by numerous sea birds. The underwater scenery here was the best what cold water dives may offer you in terms of sea life and play of colours. I've rarely seen canyons, rocks and overhangs so gaily coloured and full up of anemons, seasquirts, corals and sponges. In between numerous catsharks, octopuses and crustaceans in their crevices.
After all these impressions were so intense that we had completely forgotten White Sharks could be around here as well. But diving with the apex predator is another story.
Excursions
Cape Town
Located at the south point of Africa. Unique mix of Dutch, British and Cap-Malaysian culture forming its exclusive cosmopolitan atmosphere.

Highlights are the "Two Oceans" Aquarium and the Table Mountain.
Wine Region
Enchanted landscape at the Cap with lots of high mountains and fruitful valleys. Ideal for wine-growing.

Wine tasting is a must for connoisseurs.
Cape of Good Hope Nature Reserve
Overwhelming panoramic view at Cape Point where the peninsula towers into the two oceans.

Antelops, ostrichs and baboons are crossing your way.
Chapman's Peak Drive
Picturesque coast drive through the cliffs on the Atlantic Ocean side with splendid views.

Take your time for a picnic on a vantage point along this drive.