Uncharted Waters of the Red Sea
A long sought project to explore some totally virgin and undived reefs, a gruesome witnessing, justifying once more the need of awareness campaigns for shark-protection.
Photo by Charles Hood
A long sought project finally came alive
To explore, identify and mark (for future cruises) some totally virgin and undived reefs in unchartered waters in the most southern part of the Egyptian Red Sea , near the Sudanese territorial waters (until recently no authorization to sail there because of neighborhood political differences). This area is some 200-220 nautical miles south of Hurgada, the main hub-port for liveaboard ships in the Red Sea. A 2nd smaller port (Marsa Alam) is still 120 naut. miles north of this unexplored area.
We sailed for a full 13 days on the Royal Emperor, a beautiful, almost luxuriously comfortable, and superbly equipped 100 ft (30 m) steel mono-hull vessel (hot water and A/C all day, ensuite cabins, Nitrox at will, DragerDolphin rebreather, etc. etc.) with an excellent and united crew of 10, headed by a very skilled captain.
There were 12 divers (almost all coming from UK), plus 2 guides/instructors (Grant - from New Zealand - and Sonia - a Swiss-Colombian -, both absolutely peachy !), plus the owner of the boat (Yasser, also a very skilled diver, beyond being a lovely and cultured man who had this idea for a long time and plans to build in the near future his 2nd even better and faster vessel), and a long-time good friend of his (Ali, a colourful, charming and impressive diver who comes from a blue-blood Egyptian family and who dedicated all his life to diving and protection of Red Sea marine life, a real larger-than-life character!).
The divers were quasi-all top level. To be noted however, among others : (Nigel and John) 2 BBC journalists/reporters/ u/w videomen who, in addition, have created a joint u/w video TV documentary production company, (Charlie) another journalist/video & photographer for the UK magazine DIVE, a University of Aberdeen professor of chemistry and marine biology (an excellent u/w photographer too), a young "of blue stock" consultant in strategy for top corporations, an Irishman artist in stained-glass making, and even a Canadian businessman who flew in specially from Toronto to participate in this adventure!
Needless to say that the atmosphere among the 26 people was superb, thanks to their nice and interesting personalities, and especially to Yasser, Ali and the 2 guides... and thanks also to an excellent and diversified cooking at each meal (this does help a lot!).
Egyptian marine charts kept puzzling us
Sometimes we had to sail the whole night. The Egyptian marine charts, specially of this area (which is fortunately off the main commercial route for big freighters) , are quite weird and kept puzzling us : reefs (and a supposed existing wreck) indicated in outersea were just not there (our GPS/sonar only detected depths with more than 100 m and nothing around it) though we kept looking and looking for them, turning in circles. Other times we saw and dove on fairly large reefs (i.e. up to 100 m by 50 m) looming just under the surface, which were just not indicated on the charts. Imagine how challenging, not to say iffy (and sometimes frustrating and time consuming) it was, both for the captain and crew,... and for us!
Most of the time it was very windy with quite strong seas (sailing was kind of sporty at times !), with fairly high waves and strong currents in some exposed sites (many of the dives and pick-ups were done with/from/by 2 RIB Zodiac types). In addition, the water appeared rather coldish (21-22º C.), specially after 3, or sometimes 4 dives a day (several night dives during the cruise). By then, you end up building-in some "cold" in your bones ! Only one of us was wise enough to dive in a dry-suit...but it wasn't me (too cumbersome to bring it over in the luggage, but next time/same period, I'll bring mine!).
Fooling around
The first 2 days, going south, and the last 2 days before disembarking, we dove on known and beautiful reefs. Among them, was the famous Elphinstone (with its fantastic arch at 55 m deep under the south plateau,...but only some of us went under it ...!, its fabulous soft corals, its sharks, etc), St. John's reefs and Fury Shoal (both superb), Rocky Island (just as beautiful and wild in the middle of nowhere), and on Sataya reef, known for the hundreds of dolphins that are there almost all the time. On the latter, we obviously dove without the tanks so as not to alienate the dolphins with our bubbles, specially that there were also many recently born puppies. After an hour of fooling around, apnoea diving with them and taking pictures and videos, we were all freezing to death but nobody wanted to leave the water... You never get tired of watching them and swimming with them, even after multiple similar experiences... They are so cute and funny! This, as usual, was one of the highlights of the cruise.
Rebreather Diving
"Now that I am licensed in Rebreather diving, I highly recommend it for all those that are u/w video or photographers: you can get as close as a few cm. from a fish without scaring him as your breathing is soundless, you issue no bubbles, and you keep your depth level regardless of your breathing rhythm. Plus the fact that you breathe Nitrox (more comfortable and healthier), the mixture you inhale is warmer and moist, and you can substantially extend your bottom time before entering into decompression..."
Several of the new sites were OK but nothing exceptional in terms of corals or u/w landscape, save the thrill of exploring undived sites and yo-yoing to see/note if anything worthwhile was at any of the depths (discussing our findings and comparing notes later in the main living room). A few sharks (not as many as we hoped for) but quite shy, (mainly Gray Reef and Longimanus, but no Hammerheads, Tiger, Mako or Silkies - maybe they were still too deep at this season), and the usual: morays, turtles (not many), huge well-fed grupers, thuna, 2 manta rays one day, etc. etc. Clearly much more fauna than in most dived sites. A couple of sites though, were exceptional and warranted, not only this cruise, but a few more new and more systematic exploration-cruises so as to get a more comprehensive picture of this huge area. Plans are to repeat the exercise (with some of the same gang) some time next year!
On one occasion, on a night dive of over an hour long, along a steep drop-off wall, we saw, among other fascinating things, two Spanish Dancers who danced for us under the lights of our torches. A marvellous vision that was video-ed by my buddy Grant. That evening, coming back on board from that memorable long dive with the Dräger Rebreather, we got a surprise! We were welcomed by the whole crew who sang, played their local musical instruments and clapped their hands for us two (the only 2 crazy ones who dared diving that night)...I was freezing cold (Grant, wisely, dove with his dry-suit) and we both got two warm mugs of hot chocolate... The best drink I had in years.
On another occasion, being the birthday of one of the divers, the cook had cooked a surprise chocolate cake for after dinner and the crew again gathered to give, us and the owner, a recital of Arabian southern songs with all sorts of drums, pots and cans, the captain playing an ancient-type Egyptian harp-guitar, with everybody, including the crew, ending up dancing Arabian dances on the upper deck under the moon and the stars...Very, very nice indeed!!!
Gruesome and pathetic shark vision
But the real highlight of the trip, and totally unexpected too, was something quite unique which left all of us very saddened and crossed.
One early morning, after a night sailing, we were reaching a new reef (10-15 nautical miles from the coast) when we saw, on its side, a string of buoys tied together. At first, we thought from the distance that they were mooring buoys and wondered who the H... had been there before, as it was definitely not a diving site.
Getting closer, we realized that it was a totally illegal fishing system, even in Egypt, set up at dusk and picked up at dawn by small local fishermen. This way, they were safer in their endeavours, even though the Egyptian coastguards, by not having enough means and equipment to control and enforce the law, are mostly absent from such a big area and such unchartered waters...
The 10 buoys were tied together about 10-15 m. apart, and from each one hanged a thick long rope with a big baited hook (essentially for sharks and big thuna). We were told that a catch of a 2-3 m. shark of 300-400 kg could fetch as much as 5 to 10.000 USD for the fishermen (and their "sponsors")...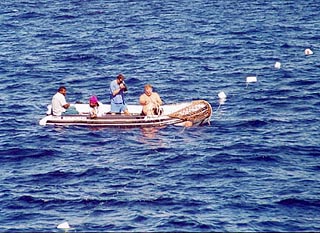 Photo by Marie-Claude Bittar
We were very upset and decided to get a closer look by RIB, take pictures and video as proof, dismantle the trap and bring it onboard as evidence for a report to the authorities. While doing so, the fishermen's small boat appeared in the horizon and when it got closer, one of our crew members (who recognised its occupants) shouted to the 5 fishermen what we were going to do and that we'll take pictures of their boat to make a report. They immediately hid their faces and sailed away at full steam, running and leaving behind their fishing tool.
While cutting the boeys and trying to lift the ropes to the RIB, we noticed them as unusually heavy, indicating that there might be some catches on the hooks. To our dismay, dragging the rope, appeared a good-sized Mako shark of about 2,50 m. still alive but barely moving (must have been hanging on the hook for some time...). By dragging the animal just under the surface with the RIB, we hoped that it would revitalise it and enable it to survive after we cut the rope, but it was of no avail. The shark was dying...We got it next to the back platform of our vessel, took many shots for evidence, noticing it was a female (and rather wide-bodyed too) and, sadly and reluctantly, we cut the rope... She just sank to the bottom, at about 20 m and died.
The Mako is among the fastest, most vigorous, and reputedly dangerous sharks (with the Bull Shark, the Tiger Shark, the Lemon Shark and the Great White Shark). It can even leap out of the water. Its teeth are ragged and look impressive.
After much discussion we came to the conclusion that her size and shape might indicate that she could be pregnant and, if that was the case, it was worthwhile trying to save the baby-sharks litter. A lot of action and preparations ensued. John doned his integral u/w mask with an incorporated microphone, Nigel and the rest of us (4) equipped ourselves with everything, from cameras, videos, knives, etc. (I wore the Drager Rebreather System), and go, gO, GO...!!!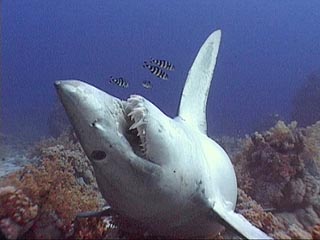 Photo by Bigfish Television
Indeed the animal was dead and lying on its side on some corals. Gruesome and pathetic vision... Nigel took a good footing of John who made an introductory description, next to the shark, before "practicing autopsy/surgery".
The animal was pushed more on its back and John started the incision. During the whole exercise, which he practiced with skill and the greatest of cares (since then we nicknamed him "the Autopsy Man"), and lasted 20 minutes, 10 baby-sharks of about 50/60 cm. were extracted, one after the other... and they were still alive but, unfortunately, being premature, they still had their nutritional pouch too inflated to enable them to swim.
Later, we estimated that they were just short of about 2 weeks to be born. Had the mother not taken the bait, 11 more sharks (except those predated by others) would still be alive today for the benefit of the ecosystem and of scuba divers.

Photo by Bigfish Television
Though still alive, taken out from the mother's matrix, they just could not swim. I tried with a couple of them to "ventilate" them by holding them behind their gills and swimming around, but it was hopeless...They just died. Very sad indeed.
They were soft, silky, eggshell white in colour, with eyes like small black shiny buttons... They looked like small rubber toys...
Sadly, we lined them up on a coral, next to their mother and took several more shots for posterity: for the report, for a documentary, and for articles in diving magazines to add to an awareness campaign of shark-protection.
When we dove again on the same site a couple of hours later to assess the situation, thinking that the remains will have brought a feast for all the sharks and fish in the region, we were astonished to find out that the remains were intact. Except for two baby-shark that had disappeared... probably snatched by a big moray or another shark. We concluded that a "dead" and motionless fish is not as appetising (except for scavengers) than injured but still living/swimming fish or crushed fish meat (a delicacy for shark feeding exercises).
What is interesting is that our vessel's crew, though all, either ex-fishermen or related to fishermen for who a shark is "bread guaranteed" for their families, were all on our side and adamantly opposed to catching/killing sharks : With time and frequent contact with divers, they finally understood, and are now spreading the word, that their livelihood depended on the survival of sharks, these superb creatures which are much sought after to be seen and filmed by scuba divers...
In short, sharks attract scubadiving tourism which in turn, helps to improve living standards for locals... Simple...!