Diving in "Grevelingen Meer"
and in the "Oosterschelde", Holland
For about three and a half hours we were driving already, coming from Luxembourg expecting having a nice and promising diving weekend. We, that's Paul, Marco, Guy and myself Jerome.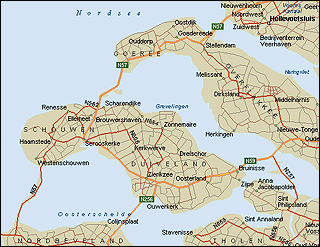 "What do you think is the water temperature here?" still I hear Guy asking that all the time. Poor guy, he was the only wet suit diver among us and always a bit nervous as he just passed his certification a little time ago.
In the Surf Centre outside of Ouddorp we met Tonie and his group of 15 divers of the "Fata Aquana" Diving School. We became friends early September 1999 when he and his group came to Luxembourg for an unforgettable diving weekend. So now we were all together again, this time in Holland. Tonie has booked an accommodation for overnight at the Surf Centre. He promised us excellent dive spots, finally he should be having right but let's start from the beginning.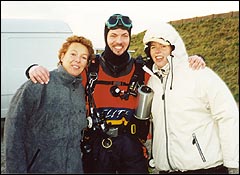 In Holland you have to buy a license to be allowed to dive, so we did. After that we were driving to the first dive spot in the "Grevelingen Meer" to a place called "Den Ossen". There was an icy wind blowing around our faces when we inspected the entry area on the shore. "I think, Guy, it should not be colder under water than outside here!" I told him, but he didn't appreciate it too much.
With slight fin movements I went down togther with Marco as my buddy. The good visibility and the typical green colour like in all the Nordic waters were impressing and let us feel a little bit of adventure. Funny to see all the big and small crabs flitting in all directions before you approach the bottom.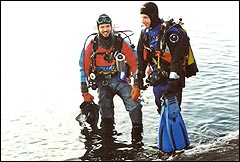 You can see them anywhere underwater around Zeeland in any depth but mostly in shallow waters. In every whole or crack it swarms of pulsating life. Some Sea Pinks were made up on the ground. Slightly rose or white in colour, they stretch their fine tentacles out in the water.
Much more finely and invisible but also more restless are the innumerable small shrimps. You easily miss them due to their nearly transparent body.
With a less trained look, you can easily find the huge number of starfishes, mussels and snails who populate by millions the ground. Between all that, again small fishes, anemones and sponges of all kind.
Gradually I left the shallow water zone, the ground went slightly in the depth and the water got colder. The opulence of sea life abruptly disappeared. The deeper ground in here gets more and more muddy, sediments of the last decades were not taken away by the tides which are no more present in the dikes.
On the way back, what a surprise was hiding under a small rock, a huge lobster and a second one just before we came out of the water.
Our second dive was in a place called "Dreischor" also in the "Grevelingen Meer". You are probably curious about our wetsuit diver Guy, who after the first dive was so chilled out that he had enough of diving for the rest of the weekend. But after a while he took it with some humor.
After this exciting day we decided to finish with some drinks in a very nice public place with live music around until late in the night.
The next day we had to pack already for our departure but we went to do a final dive before we were leaving. So we decided to go for the "Zeelandbrug" in the "Oosterschelde". To dive there means first a detailed briefing about drifts, depth and darkness combined with sometimes less visibility and perfect tide timing. Diving in the "Oosterschelde" means also wasteful abundance of sea life, fantastic macro scenes, lobsters and spectacular descents along the "Zeelandbrug" piers.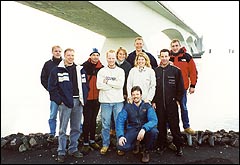 Drift dives need some extra briefing. Best time to go down on this site has to be calculated out of a tide table with a time correction factor of 45 minutes before high or low tide. During that time are the most quiet drift conditions.
Around wintertime is probably the best period to dive here, good visibility is more likely during that season.
So after the marvelous dive we exchanged some more experiences during lunch and we expressed our satisfaction about the exciting dive sites in this area of Holland. We decided to come back again very soon. Tonie promised us he would be back again with his group during summer 2000 in Luxembourg.
But the adventure was not yet finished. On our way back just one kilometre after the "Zeelandbrug" we got stuck in the mud with our 4x4 after trying to do a U-turn in a field. No way to get out, so we had to call Tonie back on his mobile phone for some help. But that's another story...