Zeeland 2000, Holland
Again and already for the second time that we were invited by Tonie and Petra from the "Fata Aquana" diving school for a diving weekend in Zeeland.
The previous trip to Zeeland made a lot of people very curious and very interested. So that's why this time we were a quite large group of 8 divers and 1 non diver: Paul, Marc, Marco, Alex and his brother (I don't remember his name), Ramon, Germain, Nico (the only non-diver) and myself Jerome.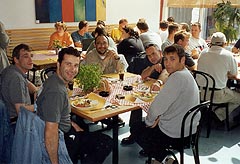 The organisation during that weekend was impressing through every detail, even better then the last time. Arrived in the Surf Centre in Ouddorp we met the very large dutch group. We were about 40 divers all together, so I was really close to see how Tonie would manage this.
We got a small very detailed self-made booklet handed out with all the necessary information about the dive sites, the different dive groups, time schedules etc. Good job so far.
All dive groups were guided by the most experienced divers. In order to avoid too much divers at the same place, the groups went to different dive sites accordingly to their experiences and their intentions.
As I told Tonie about an extensive underwater photo report I would like to do of the best dive sites in this region, he insisted to be my companion and assisting me for this job.
Dive sites of the first day:
Den Osse: The classic dive site in Grevelingen, always nice and good for underwater photography, lot of sea life.
De Val van Ouddorp: The absolute highlight of all our dives. The most spectacular site in this region by far. We saw at least 30 lobsters, plenty of fishes and we had perfect visibility. It's quite near a nature reserve, so careful diving is appropriated in small groups. Notice that you have to carry your equipment for 500 m before you get into the water, but it's worth and a must for photographers!
In the evening a copious barbecue was ready for everybody followed by a good mood until late in the night.
The following day's dive sites:
Langedijk - De Muur: Not very far away from Den Osse but you have to climb over a wall (with your equipment of course!) to reach the water. Less interesting, I wouldn't recommend after all.
Zeelandbrug: A definite must in the Oosterschelde because of its abundance of sea life and the strong drift between the piers of the bridge. Remember referring to the drift dives recommendations for this site. I did this time the 2nd pier which is quite far out. You have to be in excellent physical and mental condition. Notice that a buddy line is not only obligatory but also very useful on this site.
We knew that we would be back next year for another weekend. I personally was very satisfied with my underwater photo shootings.
Thanks again Tonie, you did a perfect job!